President of the University of Leicester Alumni Ghana, Jonathan Teye and the Managing Director of the International Distance Education Centre, (IDEC), Emmanuel Kwashie Agbodzi yesterday visited the family of the murdered soldier, Captain Maxwell Adam Mahama, to commiserate with them.
Captain Mahama was a distance learning student in the University of Leicester's department of Criminology reading for the degree of Master of Science (MSc) in Security and Risk Management.
He had enrolled on the degree in 2015 and was due to graduate at this summer's degree ceremonies.
Mr. Agbodzi stated that the International Distance Education Centre, IDEC and the alumni body shared in the pain of the widow, children, parents, family and the Ghana Armed Forces. He described Captain Mahama as someone who carried out his work with a great level of patriotism.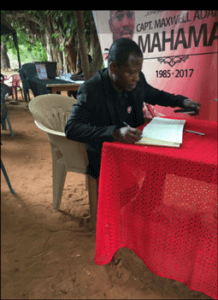 "Captain Mahama showed great honour and a spirit of commitment in his work.  As a student of Leicester he demonstrated the motto of the institution, 'Ut Vitam Habeant, so they may have life' in his line of work," Mr Agbodzi said.
On his part, the President of the Alumni body, Jonathan Teye said, the nation had lost a great hero, one that cannot be replaced.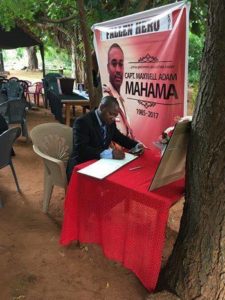 "We have indeed lost a great hero. You are simply irreplaceable. You are and were a beacon of excellent in academia and in the service of your nation"
The University of Leicester last week, in a statement published on its website said the death of Captain Mahama was regretful.