Politician and Leicester graduate Bruce Grocott presides over his last graduation ceremony on Friday 26 January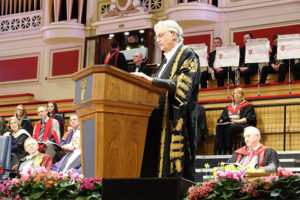 The University bids farewell to its Chancellor this week, as he presides over his final degree congregation on Friday 26 January.
Lord Grocott has served for five years since he was installed as our Sixth Chancellorin January 2013. As well as presiding at fifty-five graduation ceremonies, Bruce Grocott has overseen the creation of our Chancellor's Distinguished Lecture Series, which has attracted many illustrious speakers to the University.
A former Politics and PGCE student at the University, Lord Grocott then served in local and national politics for over forty years. He met his wife Sally here at Leicester and received an honorary degree from the University in 2011.
President and Vice-Chancellor Professor Paul Boyle will pay tribute to Lord Grocott at his final graduation ceremony on Friday 26 January before an audience of graduating students. Also honoured during this ceremony will be Patrick Harris, an outreach worker with the homeless charity The Bridge.  Four other distinguished individuals will receive honorary degrees in our January ceremonies.
Professor Boyle said: "Bruce has given the University the full benefit of his experience during the last five years. I have found it invaluable to be able to consult someone who knows and cares for the University, but is not constantly in the thick of it. Like much of Bruce's contribution to government, this may not always have been on public view.
"So on behalf of the whole of the University, I would like to thank Bruce for his tireless work and wish him the best for the future."